Darwin's Finches: Answers From Epigenetics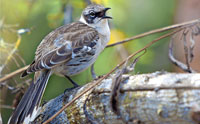 Authentic speciation is a process whereby organisms diversify within the boundaries of their gene pools, and this can result in variants with specific ecological adaptability. While it was once thought that this process was strictly facilitated by DNA sequence variability, Darwin's classic example of speciation in finches now includes a surprisingly strong epigenetic component as well. More...
Recent News
© 1995-2014 Institute for Creation Research. All rights reserved.